Kalendarium MMXX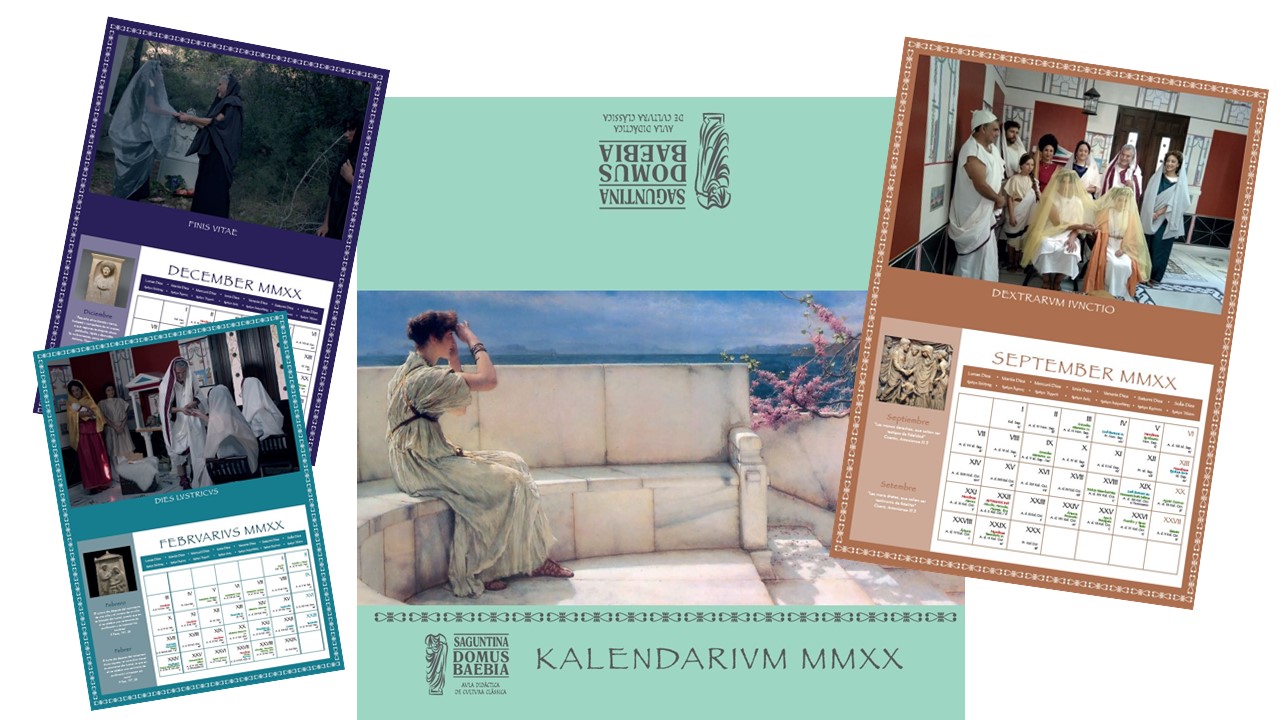 The Kalendarium MMXX is devoted to the different periods of a woman's life in ancient Rome. The calendar focuses especifically on two ladies: Lucrecia (mater familias) and her daughter Iulia. They were completely anonymous women, discreet, forgotten by History, but essential for the daily life in Roman culture and education.
From January to December, the calendar invites to explore the most important moments of a woman, such as birth, education, games, childcare, marriage and death.
The idea for this calendar was born in 2017, when the Saguntina Domus Baebia participated in the documentary"La Mujer en Carthago Nova", which revolved around the role of women in Roman society, and more particularly in the city of Carthago Nova, nowadays Cartagena. Our collaboration in this documentary was based on providing historical advice, clothes and atrezzo. Background decoration was located in the Domus Pompeiana, a Patrician house near Sagunto.
In order to elaborate the calendar, we have used images taken from the above mentioned documentary. It was a project by Patrimonio Digital, produced by Fundación Integra, directed by Antonio Alpañez, with audiovisual direction by Imagia Video and script by Francisco González Lirón, with the European funds from FEDER and the Dirección General de Informática, Patrimonio y Telecomunicaciones de la Consejería de Hacienda de la Comunidad Autónoma de la Región de Murcia.
We sincerely want to express them our gratitude for having allowed our Domus Baebia to collaborate with them, and for having shared the images of their documentary for our calendar of 2020.
Similarly to last year's calendar, the Kalendarium is bilingual, in Spanish and Valencian. Once more, it has been laid out by Tándem Comunicación.
The cover follows the same style as previous years' calendars made by the Saguntina Domus Baebia. It consists of a painting by Alma Tadema, and this year, the picture is "Expectations" of 1885.
We hope you like it.
Here you can place your order.
---
Price. 8 € (shipping cost not included)
---
This year you can also purchase the calendar physically in Sagunto's shop La Llar dels Deus:
LA LLAR DELS DÉUS
C/ Castillo, 9
Tel. 657 66 54 04
Cut-out pictures: Baebia Family (information)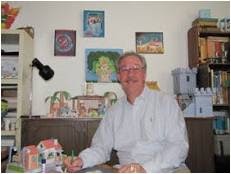 With these cut-out pictures, we offer the possibility to see how life was in Sagunto, back in 2nd century AD, more specifically the GENS BAEBIA, whose family members have been designed by the drawer Didier Martin, expert in cut-out dioramas and board games.
Please, consider visiting his website: http://jacques-mylittlehouse.blogspot.com.es/ where he shares his works, which you can use for non-commercial purposes, and always mentioning the author. Didier offers them for free, but welcomes anyone willing to donate via Pay Pal.
Upon finding his Roman soldier design, we contacted him and he has kindly created the BAEBIA family and the furniture of their home for the SAGVNTINA DOMVS BAEBIA et LVDERE ET DISCERE. Our purpose is to keep on designing the rest of the gens members.