Kalendarium MMXXI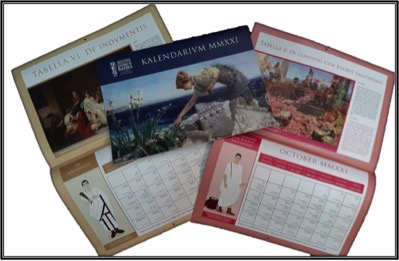 The Kalendarium MMXXI revolves around the daily life of a gens from Sagunto, more specifically the Baebia family. .
Along with Grattia Maximilla, wife of senator Lucius Baebius Hispanus and mater familias of the Baebiafamily, we shall meet all the gens members, learning the daily routine in a Roman house, paying attention to all sorts of details: how the domus is, what kind of activities they realize after waking up, how schools are, what games they use as entertainment, the life in the army, as well as hygiene, food, gods, myths, superstitions and beliefs, and of course, public shows.
The XII Tabellae Grattiae Maximillae used as the main source for this Kalendarium, can be found in our website (domusbaebia.com) and used as a teaching material for students. In the section of Tabellae Baebiae you can find a large variety of activities, focused on text comprehension, reflection or activities to refresh previously acquired knowledge. There are also funnier activities that require creativity or that can be used as pastimes.
This material can be used for teaching purposes at any age and course, although it is especially recommended for Classical Culture and Latin students.
The Kalendarium shows one classical picture per month, mostly painted by Alma Tadema, along with one poem by Marcus Valerius Martialis and the illustration of the protagonist character of each tabellae.
Similarly, to last year's calendar, the Kalendarium is bilingual, Spanish and Valencian. And, once more, it has been laid out by Tándem Comunicación.
The cover art is Among the ruins by Lawrence Alma Tadema, 1872..
We hope you like it.
Here you can place your order.
---
Price. 8 euros (plus shipping cost)
---
Cut-out pictures: Baebia Family (information)
With these cut-out pictures, we offer the possibility to see how life was in Sagunto, back in 2nd century AD, more specifically the GENS BAEBIA, whose family members have been designed by the drawer Didier Martin, expert in cut-out dioramas and board games.
Please, consider visiting his website: http://jacques-mylittlehouse.blogspot.com.es/ where he shares his works, which you can use for non-commercial purposes, and always mentioning the author. Didier offers them for free, but welcomes anyone willing to donate via Pay Pal.
Upon finding his Roman soldier design, we contacted him and he has kindly created the BAEBIA family and the furniture of their home for the SAGVNTINA DOMVS BAEBIA et LVDERE ET DISCERE. Our purpose is to keep on designing the rest of the gens members.